Problem-solving skills are essential while working in an industry that is continually changing and adapting. There will be occasions when your code's unit tests fail, or you have a long sprint ahead of you to complete your next goal. In these cases, your adaptability and ability to solve a difficult problem will come in handy.
When considering talents for computer science-related employment, critical thinking is certainly one of the first things that come to mind; many roles in this sector demand a lot of staring at screens, chewing over figures, and testing code. It's critical for someone working in this sector to be able to comprehend all aspects of a problem–to analyze and manipulate data like a machine.
A sense of inventiveness, on the other hand, will aid you in truly embracing your role. After you've mastered the analytical side of the equation, you'll need to have a strong desire to come up with fresh and innovative approaches to solve problems.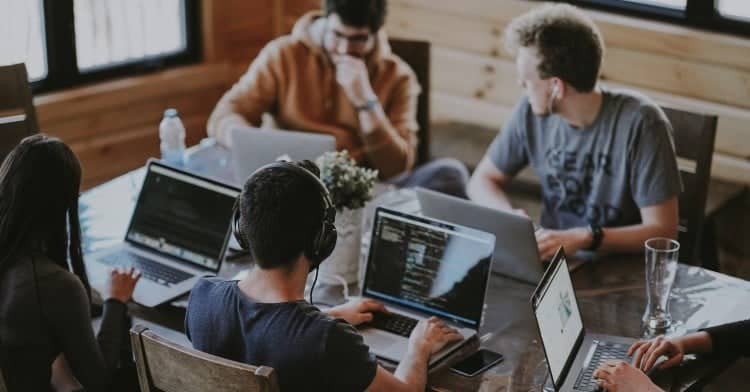 Check out the top ten jobs for computer science majors – and anyone else with an interest in the industry.
1. Software Developer
Websites, programs, and other applications that operate on computers or other devices are created and developed by software developers.
For these professions, a good experience in computer programming is highly desired. Interpersonal abilities, such as the ability to interact with others on projects and the ability to juggle multiple aspects, are also highly regarded.
Salary : Approximately $105,000.
2. Web Developer
Web developers are programmers who specialize in coding, designing, and constructing a website's layout.
This position requires knowledge of HTML/CSS, Javascript, and other programming languages. While working on projects with other designers, it's equally necessary to have graphic design skills and a collaborative approach.
Salary: Approximately $69,000.
3. UX Designer
UX Designers are in charge of ensuring that consumers of a product or platform have meaningful and relevant experiences. They're a big part of why you like your favorite apps and how they look.
Knowledge of programming and computer systems will help you succeed in this capacity because it will be easier for you to communicate your design ideas to your team. It also helps if you're familiar with user empathy, which allows you to experience the product through the eyes of prospective users and make adjustments accordingly.
Salary: Approximately $74,000.
4. Mobile App Developer
Mobile App Developers are identical to Web Developers, with the exception that they specialize in designing, building, and testing mobile applications.
Skills: In addition to the fundamentals of excellent analytical skills and coding knowledge, knowing both programmatic languages—Java (for Androids) and Objective-C (for iPhones)—is beneficial for variety.
Salary: Approximately $69,000.
5. IT Project Manager
IT project managers are responsible for planning, budgeting, and overseeing the IT goals and efforts of a company.
In this role, strong leadership abilities are essential. You will be responsible for not just leading a team, but also guiding, hiring, and making choices in the best interests of everyone.
Salary:  Approximately $142,000.
6. Information Security Analyst
Information security analysts are responsible for putting in place safety systems and safeguarding a company's computer networks.
Skills: Being precise and detail-oriented in your job is essential for success in this role, as the security of the entire business is at stake. It's also important to be able to forecast results and adapt security accordingly.
Salary: Approximately $98,000.
7. Systems Architect
Systems Architects look at a corporation as a whole and figure out how to implement the optimal IT strategy for their department's objectives. They define and develop the architecture of the system in order to provide the best possible experience.
To thrive as a Systems Architect, you must be able to critically examine a company's goals and determine the number of resources it will require from all sides. It's also beneficial to be able to troubleshoot, appraise, and translate customer needs.
Salary: Approximately $109,000.
8. AI Engineer
Engineers that work in AI (Artificial Intelligence) construct, test, and develop computer systems with the goal of making them approximate human intelligence.
Programming, as well as a thorough understanding of software development, linear algebra, probability, and statistics, are essential skills for this position.
Salary: Approximately $144,000.
9. Computer Hardware Engineer
Computer hardware engineers are in charge of designing, studying, developing, and constructing computer systems and components such as semiconductors, memory, and circuit boards.
When working with software developers on developing projects, you'll require strong technical and analytical skills, as well as a strong collaborative spirit.
Salary: $114,000 to $115,000
10. Video Game Developer
These programmers are the brains behind the games you like playing in your spare time. They make playable games by coding on numerous platforms and brainstorming with other developers.
Storytelling abilities, as well as the capacity to create plot and design, are essential for this function. It's more important to have a vision and ideas about how to execute it properly than it is to know the programming language.
Salary: Approximately $65,000.
Conclusion
DCC helps kids build their Critical thinking, Computer skills, and their approach on how to solve complex tasks. Check the various courses DCC offers and build your Child's bright future!