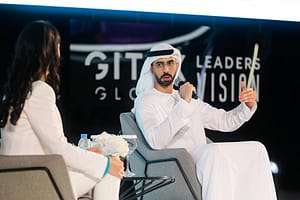 The UAE has designated October 29th as its annual 'National Programmers Day,' during which everyone in the nation is urged to test their coding skills as the government strives to achieve its goal of having the world's biggest per capita proportion of coders within ten years.
At GITEX GLOBAL LEADERS VISION at Dubai World Trade Centre, His Excellency Omar Sultan Al Olama, Minister of State for Artificial Intelligence, Digital Economy, and Remote Work Applications, highlighted the initiative and discussed plans for the UAE's Coders' Society, which will bring together the 60,000 coders already residing in the UAE.
His Excellency stated that he believes the UAE can succeed in producing female coders, resulting in new job possibilities for women across the Emirates.
By the end of the year, the Dubai government will be paperless.
According to the CEO of Smart Dubai Government Establishment, Digital Dubai, the Dubai government will issue its final paper transaction on December 12th. Mr. President, The day, according to Wesam Lootah, CEO of Smart Dubai Government Establishment, Digital Dubai, would commemorate the completion of the Dubai Paperless Strategy, which was launched in 2018. He claims that the technique has saved 13 million hours of manual work and 325 million sheets of paper, equating to a forest of 39,000 trees — five times the size of Central Park in New York.
Call for cross-border digital human rights
His Excellency Dr. Mohamed Abdelhameed Al Askar, Director General of the Abu Dhabi Digital Authority, called for cross-border cooperation in the maturation of digital human rights at GITEX GLOBAL Leaders Vision. He stated that rights will include universal internet access, with digital connections being optional. He believes that digital ethics law has to evolve in order to preserve privacy, strike a balance between freedom of expression and protection against harm to persons, prioritise digital fluency in education, and improve digital consumer rights and cybersecurity knowledge.
More steps to make Dubai the safest city in the world
The Director General of Artificial Intelligence, Dubai Police, Brigadier Khalid Nasser Al Razooqi, highlighted to GITEX GLOBAL Leaders Vision participants their innovative projects that would be released shortly to assist convert the Emirate into the world's safest city. On the World Islands, these feature the debut of a GPS bullet vehicle camera tracking system and the world's first floating smart, tech-loaded police station.
Satellite Components Made in the UAE
His Excellency Salem Al Marri, Deputy Director General of the Mohammed Bin Rashid Space Centre, announced that the bulk of components for Dubai's next satellite will be manufactured locally by start-ups and small businesses.